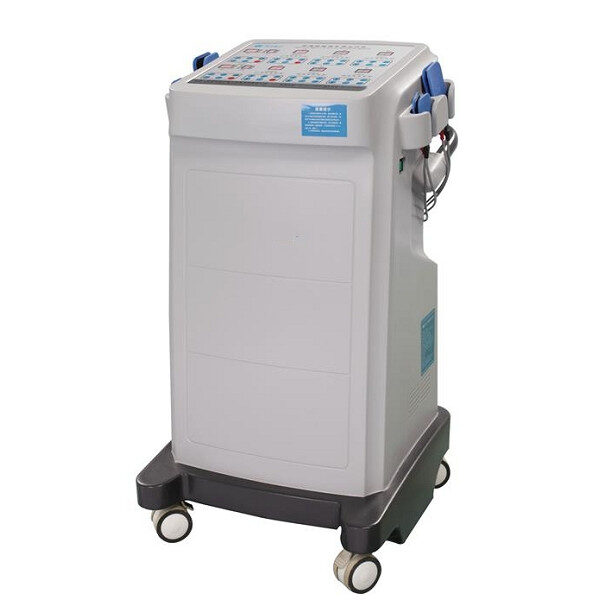 Transcranial Magnetic Stimulation physiotherapy machine
Medical Transcranial Magnetic Stimulation therapy machine is widely used in rehabilitation center, clinic and hospital, it is used for therapy.
Description
Medical transcranial Magnetic Stimulation physiotherapy machine price
I. Overview
Magnetotherapy transcranial Magnetic Stimulation is a physical therapy where the magnetic field acts on the human body to stimulate the specific sites (including focus, pain spot, acupoint and ganglion) under the effect of a proper amount of magnetic field, which has the effects of sedation & analgesia, anti-inflammation & swelling and antihypertension.
Product introduction
transcranial Magnetic Stimulation HXY-B2 encephalopathy physiotherapeutic apparatus is a three-in-one luxury machine integrating the brain Magnetotherapy, cerebellar fastigial nucleus stimulation and limb electrical stimulation. The product is provided with the luxury trolley, the ultra-silent caster, the digital display and the color matching, elegant in the appearance.
Magnetotherapy principle
The magnetic field could be used to treat diseases, related to the factors such as unblocking the meridian, regulating the bioelectromagnetic process of the human body, forming the nervous reflex and allowing the human body to generate the microcurrent. As concluded by the studies, the acupoint of the human body has the electromagnetic property, which is the focus of magnetic field. Meridian is the main channel to realize the biological amplification effect, and disequilibrium of biological charges of the human body might cause the occurrence of some diseases. The biological electromagnetic balance of the body is adjusted through the function of magnetic field on the meridian and acupoints so as to achieve the aim of curing diseases.
Specific functions:
1. It may increase the permeation of cell film,  expand blood vessel and blood and accelerate blood circulation and finally eliminate swelling and kill pain;
2.  It may eliminate irritation and kill pain through the impact of organs and physiology as well as biochemical reaction;
3. It may check the agitation function of the nerve center to improve sleep state,  lengthen sleep time,  alleviate muscle convulsion and lower blood pressure so as to play a sedation role;
4. High-strength magnetic field function may check the growth and transfer of some cancer;  low-strength magnetic field function may delay the aging process.
Indication
Ischemic cerebrovascular disease: cerebral thrombosis and infarction, cerebral insufficiency, brain atrophy, cerebral arteriosclerosis, lacunar infarction, cerebral vertebral insufficiency;
Cerebral spinal cord injury diseases: craniocerebral injury, toxic injury, spinal cord injury, pediatric cerebral palsy;
Brain functional disorders: parkinson's disease, depression, senile dementia, mental disorders, neurasthenia, insomnia, dizziness, neurological headache, anxiety, obsessive compulsive disorder, and phobia.
Contraindication
1, with pacemakers
2, cardiovascular and cerebrovascular disease acute bleeding period
3, patients with intracranial infections and tumors
4, high fever patients, severe arteriosclerosis
5, pregnant women
6, caution for patients with epilepsy
Product parameter
Model
HXY-B2
Power supply
220V±22V  50Hz±1Hz
Input power
155VA
Output
Two channels magnetotherapy, two  channels cerebellar fastigial nucleus electrical stimulation and four channels limb electrical stimulation output
Magnetic field parameter
Induction frequency of conversion frequency
5Hz, 10Hz, 20Hz, 30Hz, 40Hz, 50Hz; automatic continuous frequency conversion;

Constant frequency

 Magnetic induction
Weak: 3mT-13mT;

Strong: 13mT-25mT

Treatment time
20min and 30min
Cerebellar fastigial nucleus electrical stimulation
Output waveform
Continuous-wave, dilatational wave, light beating wave, massage wave E1, massage wave E2, massage wave E3
Output pulse intensity
0~42Vpp±10%
Treatment time
20min
Limb electrical stimulation
Working frequency
2KHz-6KHz
Modulation frequency
0-150Hz
Modulation waveform
Sine wave, square wave, triangle wave, exponential wave, sawtooth wave, sharp wave, equal amplitude wave
Treatment prescription
35
Current
Less than 100mA
Temperature range of electrode
38℃~55℃
transcranial Magnetic Stimulation Product advantage
a) 8 treatment channels, each of which can be regulated and operate independently;
b) Two-way Magnetotherapy output and six-way electrical stimulation output (two-way cerebellar fastigial nucleus stimulation and four-way limb electrical stimulation output);
c) Equipped with two encephalopathy treatment hats, six output lines for physiotherapy, four pairs of cerebellar fastigial nucleus electrode slices and eight pairs of limb electrical stimulation electrode slices;
d) Adjustable in the magnetic induction intensity of magnetic field output therapy generator by two levels (strong and weak), with variable-frequency and fixed-frequency Magnetotherapy modes;
e) Limb electrical stimulation prescription: adjustable by 1~35; diathermanous temperature: adjustable by six levels;
f) Adjustable in six waveforms and six modes of cerebellar fastigial nucleus stimulation, adjustable in the output intensity at the levels of 0~99.
Physiotherapy equipment
Walking Rehabilitation
Upper limb rehabilitation
Lower limb rehabilitation
Whole body rehabilitation
Children rehabilitation
Finger rehabilitation
CPM series
Treatment table series
Lumbar and neck traction bed
Medical mask
Telecom Equipment
Ultra Low Temperature Freezer
Speed Reducer
Fiber Optical Multiplexer