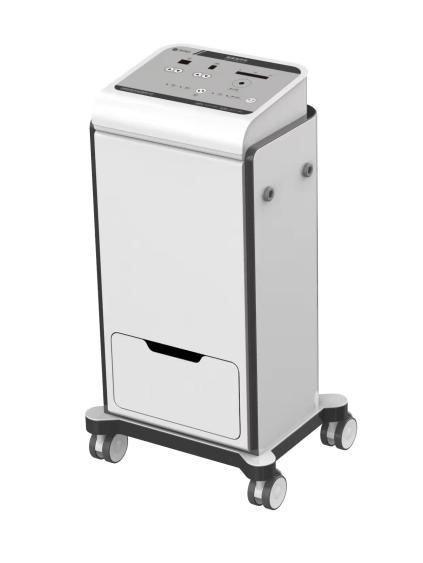 Shortwave therapy device
Medical short wave therapy machine is widely used in rehabilitation center, clinic and hospital, it is used for therapy.
Description
Shortwave therapy device
Product introduction
Electromagnetic wave shortwave therapeutic has the lower frequency than the previous radio frequency, stronger wavelength penetration,  making the treatment more accurate and more effective, thereby enhancing the therapeutic effect. Through the generation of warm effects, promote the blood circulation of the lesion, accelerate the dissipation and absorption of inflammation, and promote the healing of the lesion.
Principle
Under the effect of electric field, the charged particles and polarized molecules will generate the thermal effect by mutual friction due to vigorous activity, which can dilate the local tissue vessels, accelerate the blood circulation, accelerate the tissue metabolism, strengthen the phagocytosis of blood cells, promote the absorption of pathological metabolites, and bring the anti-inflammatory, anti-swelling and analgesic effects.
Shortwave effect on the human body produces three main effects: thermal effects, micro-thermal effects and no thermal effects.
Thermal effects: endogenous heat changes after the tissue absorbs electrical energy, which can reach deep in the body, with uniformity and selectivity. This feature has a unique therapeutic effect on nerves, bones and internal organs.
Micro-thermal effects: can improve blood circulation, with analgesic anti-inflammatory, reduce muscle tension.
No thermal effects: sub-acute conditions of anti-inflammatory, accelerate tissue growth and repair, improve immunity has a unique clinical role.
Shortwave therapy device Product parameter
Model
XY-K-CDB-IV
Power supply
220V
Rated input power
700VA
Output power
20W, 40W, 60W, 100W, 200W adjustable
Working frequency
27.12MHz
Pulse modulation frequency
Sparse wave MF 70Hz

dense wave DF 350Hz

Modulation waveform
Square wave
Modulation pulse width
Thin 7.15ms, dense 1.43ms
Modulation
100%
Treatment time
10min,15min,20min,25min,30mi
specifications
430*330*830mm
Shortwave therapy deviceApplication
Gastritis, ulcer disease, colitis, gastrointestinal spasm, cholecystitis, hepatitis, pneumonia, bronchial asthma, bronchitis, cystitis, pyelonephritis, acute;
Kidney failure, myositis, fibrositis, myalgia, contusion, hematoma, frozen shoulder, arthritis, prostatitis, postoperative adhesions, pelvic inflammatory disease, annex inflammation,Uterine hypoplasia, neuralgia and peripheral nerve injury and other adjuvant therapy.
Large order: 50% advance payment before production, 50% balance payment before delivery.
Physiotherapy equipment
Walking Rehabilitation
Upper limb rehabilitation
Lower limb rehabilitation
Whole body rehabilitation
Children rehabilitation
Finger rehabilitation
CPM series
Treatment table series
Lumbar and neck traction bed
Medical mask
Telecom Equipment
Ultra Low Temperature Freezer
Fiber Optical Multiplexer