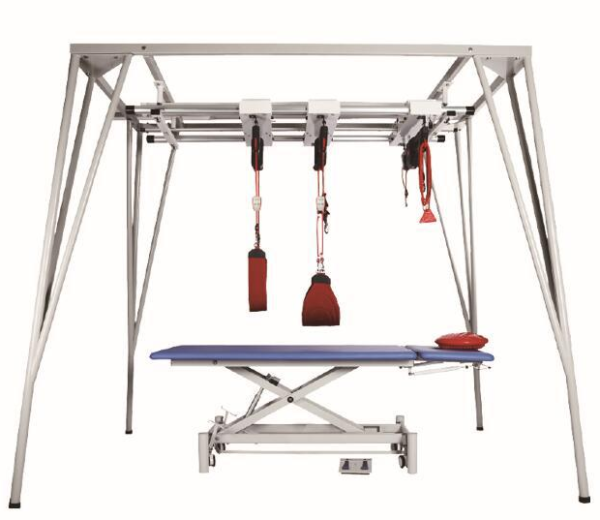 Medical Suspension frame rehabilitation equipment
Medical suspension frame rehabilitation equipment is widely used in rehabilitation center and hospital, it helps patients doing rehabilitation exercise.
Description
         Rehabilitation center suspension frame for clinic
Type: rehabilitation equipment list
| | |
| --- | --- |
| Type | Rehabilitation equipment |
| Product name | Medical rehabilitation suspension frame |
| Function | Used for rehabilitation training |
| Application | Rehabilitation center, hospital, clinic |
| Material | Steel frame, steel |
| MOQ | 1 pcs |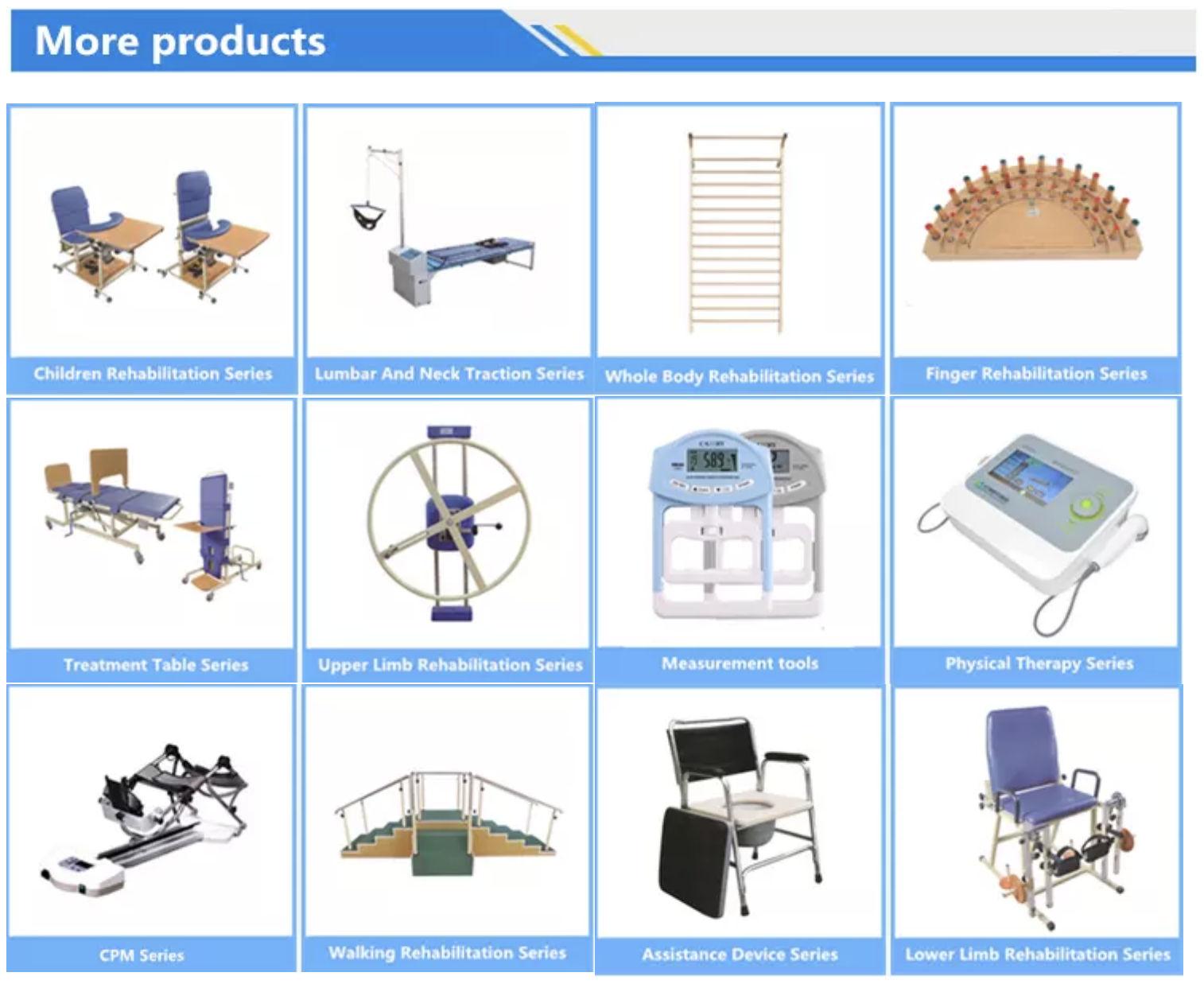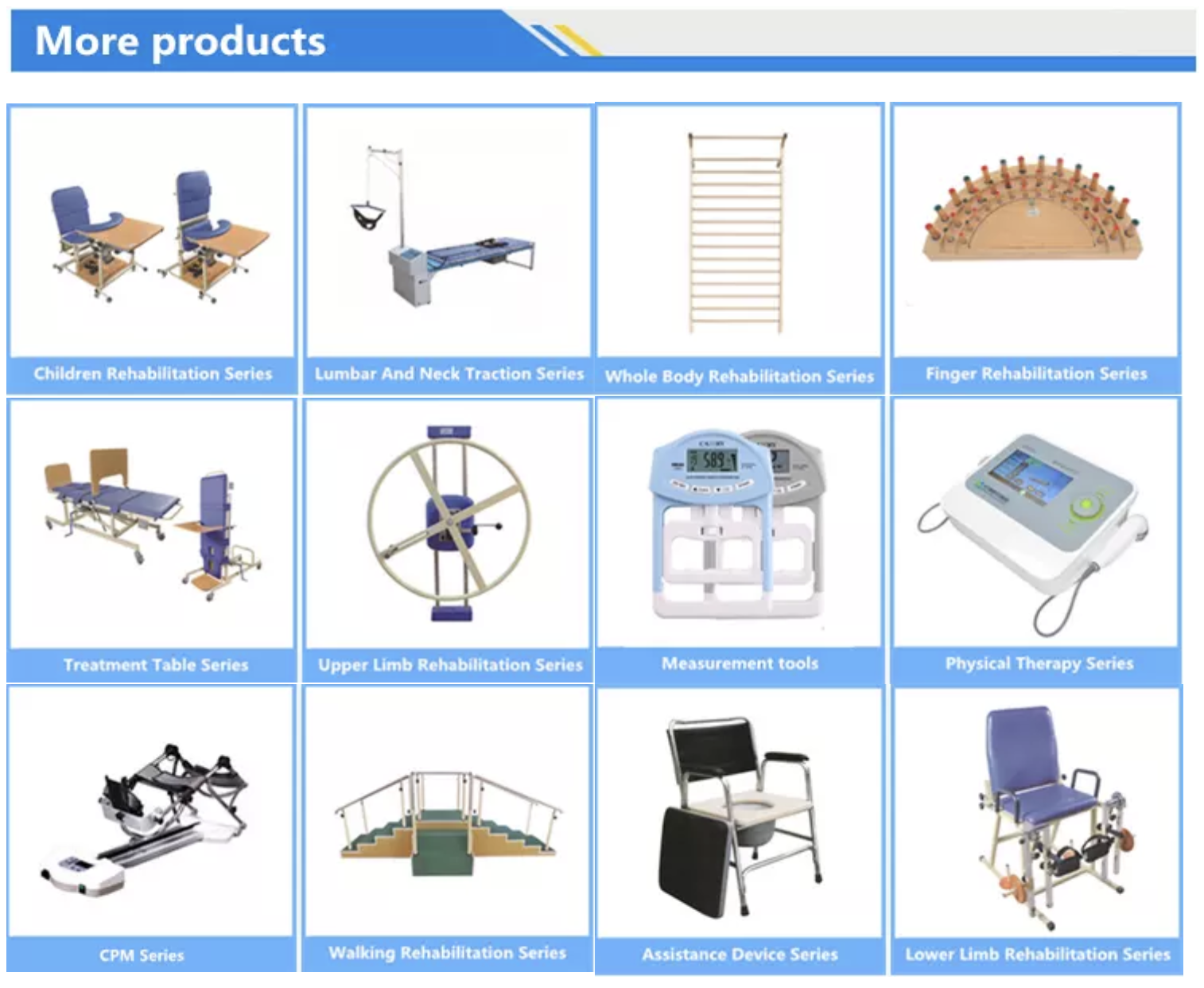 The basic rehabilitation equipment is
Electric stand up bed
Therapeutic effect
1. Standing training is mainly for patients with hemiplegia and paraplegia to carry out step-by-step standing adaptability training.
2. Prevention of complications in bed Prevent postural hypotension, osteoporosis, respiratory system infection, urinary system infection and other complications caused by long-term bed rest
Upper and Lower Limb Active and Passive Rehabilitation Training Device
Function:
Exercise muscle strength;Maintain range of motion and prevent contracture;Induce normal action pattern, inhibit abnormal pattern;To prevent complications in bed.
Bobath training bed
Scope of application: patients lying, sitting movement training such as: hemiplegia, paraplegia, limb mobility disorders patients can do on the bed to turn over, sit up and move back and forth, crawling, transfer and other training, sitting and hand and knee position balance training, all kinds of neurophysiological therapy, such as Bobath therapy, PNF therapy.
Suspension rehabilitation trainer
Scope of application
Neurological rehabilitation due to hemiplegia, paraplegia, cerebral palsy and other central nerve injury diseases caused by joint dysfunction;
Orthopaedic rehabilitation due to muscle strain and joint diseases caused by joint dysfunction;
Pelvic floor rehabilitation joint dysfunction due to postpartum changes in pelvis – abdomen dynamics and structure.
Electric Shift Machine (Sky Rail Transfer/Training System) (Original Name: Sky Rail Transfer Training System)
Scope of application
1. Nervous system diseases (stroke, brain trauma, childhood cerebral palsy, etc.).
2. The recovery period of bone and joint diseases and sports injuries (hip replacement, knee replacement, lower limb fracture, etc.).
3. Walking training of lower limbs before and after wearing prosthetics and orthotics.
4. Patients with metastatic dysfunction.(Elderly) (Wheelchair Patients) (Bed Rest) (Hemiplegia Patients) (Amputees)


TOPMED Physio Rehab Co.,Ltd is the leader for rehabilitation equipment and physical therapy products in China market. Quality is our principle, good quality, good service to our customers.
TOPMED specializes in the production of walking rehabilitation equipment, upper limb rehabilitation equipment, lower limb rehabilitation equipment, occupational therapy rehabilitation equipment, children rehabilitation equipment and physical therapy products. Products are widely used in rehabilitation center, hospital and clinic.
Warmly welcome you and opening up the boundaries of communication. We synchronize with your ideal partner!
Physiotherapy equipment
Walking Rehabilitation
Upper limb rehabilitation
Lower limb rehabilitation
Whole body rehabilitation
Children rehabilitation
Finger rehabilitation
CPM series
Treatment table series
Lumbar and neck traction bed
Medical mask
Telecom Equipment
Ultra Low Temperature Freezer
Speed Reducer
Fiber Optical Multiplexer